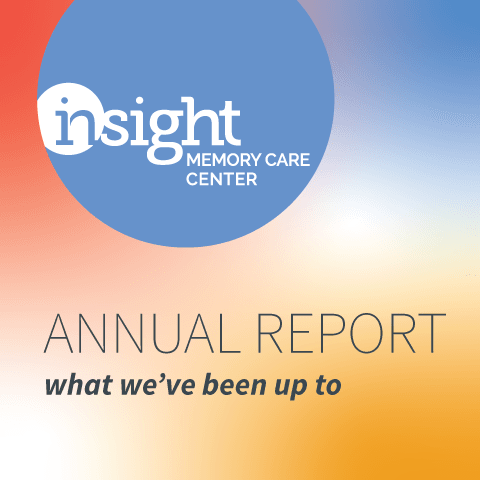 FY22 Accomplishments
...or what we've done since July 2021!

September 2021
Held a small ceremony to rename our scholarship fund to the Kenneth G. Wood Financial Assistance Fund in memory of his dedication to our mission and for his service on the board. $215,000 was provided to 22 participants during the fiscal year.
October 2021
Held our 10th Annual Paintings & Pairings event virtually, raising over $140,000 in support of our programs. We awarded our 6th annual Excellence in Memory Care Award to R. Scot Turner, MD for his research expertise and commitment to quality care.
January 2022
Opened our second location, Insight Memory Care Center – Sterling! The new early stage focused center offers our Reconnections program for participants four days per week, along with care partner support groups and education programs.
Added the Obie for Seniors system to our day center that uses a projector and motion sensors to turn walls, floors, and tables into interactive gaming centers! This program was funded by the Alzheimer's Foundation of America (AFA).
February 2022
Offered six distinct support groups throughout the year, and introduced a new Successful Support Group train-the-trainer course to expand support offerings in the community.
March 2022
The Mind & Body Workshop was offered after a two year hiatus in our new Sterling Early Stage Center! Both the care partner and the early stage individual participate, providing social engagement and peer support, while adjusting to life with a new diagnosis.
Our annual monitoring visit from the Virginia Department of Social Services was completely deficiency free for the 11th year in a row to renew at the highest level of licensure.
Our Caregiving at a Glance Workshop was awarded Honorable Mention in the 2022 Best Practices Awards from the Commonwealth Council on Aging. The Workshop is a unique learning experience for a cohort of family care partners to learn together with dementia experts while exploring many common caregiving topics together.
May 2022
Held our second Legacy Breakfast in May 2022, inviting new supporters to learn more about our organization and raising over $40,000 in support of our programs.
June 2022
Named one of the best local nonprofits through The Catalogue for Philanthropy: Greater Washington, an honor we have received each four year cycle since 2006.
Completed SAGECare training at a Platinum level, and we continue to work towards making our services welcoming to LGBTQ+ people and their families.
Sterling Early Stage Center

Mind and Body Workshop returns
Blog
"I like that IMCC focuses on dementia-related problems and provides a focal point for families to network and socially interact in coping with dementia. It provides a community that helps us in our struggle."