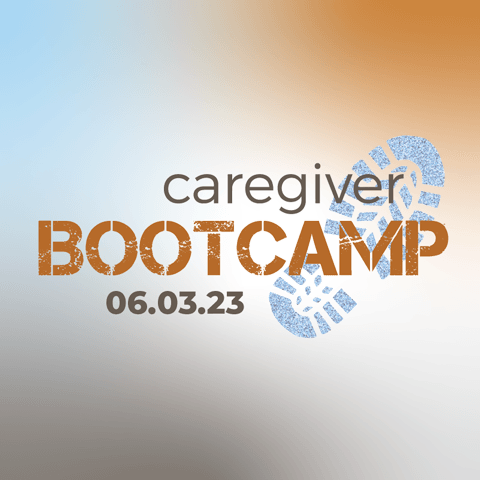 Join IMCC for a free, special morning training event covering many essential caregiving topics! For the Summer 2023 session, we'll be focused on providing tools for everyday challenges! Learn actionable tips and ideas you can use to tackle caregiving challenges at home.
We know it can be hard as a busy caregiver to find all the information you need to best care for your loved one with dementia. Insight offers the Caregiver Bootcamp to help you learn more about essential caregiving topics, all in one place! Come and learn from experts in their fields and gain knowledge on the basics you need to know as a caregiver.
Schedule
9:00-10:00 | Navigating Paperwork
Megan C. Rackiewicz, Legacy Lawyers, PLLC
There are so many 'what if's, and 'what comes next's in navigating your caregiving journey. Learn more about what paperwork you need to get in order as a caregiver from the Chief Business Development Officer at Legacy Lawyers.
10:00-11:00 | Nutrition and Older Adults
Nourishment is essential to living. Food not only provides us with nutritional needs, but also brings us joy and pleasure. That can change as we age. From taste buds changing, dental health can be more challenging, arthritis can make food prep painful, and medications and mood disorders can steal our appetite. And well, we're often alone and just don't feel like cooking! Let's learn some quick, easy and healthy ways to meet those needs.
11:00-12:00 | Diffifult Behaviors
As the journey of dementia progresses, many people develop behaviors that can be challenging. This includes restlessness and aggression. We will look at techniques, medication, and tools to help get through these difficult times.
Many thanks to our event sponsor, Paul Spring Retirement Community in Alexandria!
 
1.Dining Room & Kitchen

Coming in the participant entrance you enter the dining area and kitchen, a spacious area with seating for 60.

2. Art Therapy Room

A separate room provides dedicated space for art therapy, as well as arts activities throughout the week.

3. Main Activity Room

The main activity room provides a large space for big group programs, and can be divided for smaller activities for our Blue and Orange groups.

4. Multi-Sensory Room

This room uses sensory stimulation to calm those who are agitated, or awaken those in the later stages of the disease.

5. Shower & Bedroom

Showers can be provided in a separate bathroom. The bedroom and nurses station all adjoin to provide optimal care.

6. Open Floor Plan

The day center layout is designed for dementia; conducive to wandering with no dead ends.

7. Later Stage Activity Room

Coral participants receive individualized activity plans and more one-on-one assistance with activities.

8. Outdoor Space

1,000 square feet of outdoor space with areas for gardening, active games, activities, and conversation.

9. Education & Seminar

Dedicated seminar space for educational programs, support groups, workshops and more!

10. Early Stage

Dedicated, separate space for our early stage programs, Reconnections and the Mind and Body Workshop.
Locations
"I feel blessed to have lived near IMCC so my husband could participate in such a caring, comprehensive program."