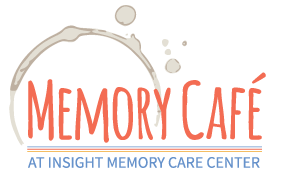 Insight Memory Cafe
Virtual Sessions
When: 1st Wednesday of the month
Where: Virtual
Time: 4:00 to 5:00 pm
Cost: Free!
In-Person Sessions
When: 3rd Wednesday of the month
Where: Mazawey Education and Support Center, 3955 Pender Drive, Suite 100, Fairfax, VA 22030
Time: 4:00 to 6:00 pm
Cost: Free!
The café is an opportunity for caregivers and their loved one to meet with others for support, companionship, and fun! The program provides structured activities to promote reminiscence, cognition, and engagement. There is also time to share in conversation and get to know others in a safe, supportive environment. Come join us!
We are resuming in-person cafes! Participants are required to register in advance to keep our group size small. All attendees will need to be vaccinated.
Questions? Want to register? Please contact us at imcc@insightmcc.org or 703-204-4664.
Additional Area Cafes
Arlington Memory Cafe, virtual meetings weekly
Thursdays from 1:00 to 2:00 pm, virtual meetings
Rock Spring Congregational United Church of Christ
5010 Little Falls Rd
Arlington, VA 22207
Contact Nicole McMonigle Knight at nicole@dementiacareconnections.com or 571-422-6231.
Club Memory
2nd and 4th Wednesday from 1:30 to 3:30 pm 
Metropolitan Methodist Church
3401 Nebraska Avenue, NW
Washington, DC 20016
Contact Marti Bailey at 202-660-5658 for more information
Forgetful Friends Memory Café, currently on hold
3rd Saturday from 11:00 am to 2:30 pm
Saint Thomas United Methodist Church
8899 Sudley Road
Manassas, VA 20110
Contact Connie Young at connieyoung11@gmail.com or 703-743-1841
Herndon Memory Cafe
4th Monday from 2:15 pm to 4:00 pm
Early Stage Participants
Herndon Senior Center
873 Grace Street
Herndon, VA 20170
Contact Pat Williams at 703-904-3994x103 or Herndon Senior Center at 703-464-6200
Memorycafe4u, virtual meetings weekly
Thursdays from 1-2 PM, virtual meetings
Andrew Chapel United Methodist Church
1301 Trap Rd
Vienna, VA, 22182
memorycafe4u.com
Contact Carol Blackwell at lovriver@aol.com or 571-236-6933 
Reston Memory Café 
3rd Tuesday from 2:00 to 4:00 pm
Reston Community Center, Hunters Woods
2310 Colts Neck Road
Reston, VA 20191
Contact Karen Brutsche at karen.brutsche@fairfaxcounty.gov or 703-476-4500
Sterling Area Memory Café, on hold
2nd Saturday from 12:00 to 2:00 pm - bring your lunch!
Galilee United Methodist Church
45425 Winding Road
Sterling, VA 20165
Contact Tim Frank at tim@acesemb.com or 703-298-5622
Want to Learn More?
"It's such a lovely place to be. It provides such emotional, spiritual, physical nurturing. I've never been hugged so much in my life, and that's a good feeling!"