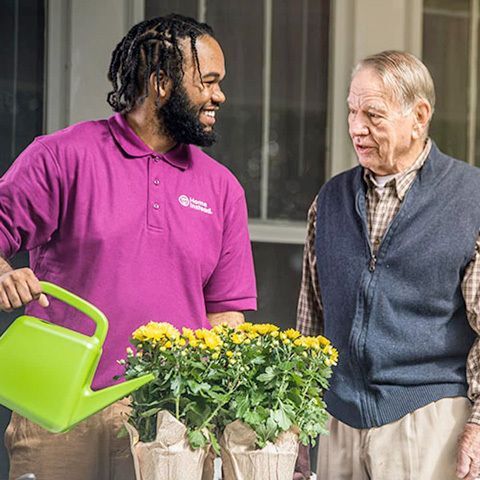 Valuing Compassionate Care
We are sincerely grateful to Home Instead for being a Diamond Sponsor of our 2022 Paintings & Pairings event! Just like Insight, they believe strongly in the value of compassionate care for those living with dementia. Learn more!
Home Instead
Home Instead is a national home care agency that is individually franchised throughout the country, as well as Canada and the United Kingdom. This provides us with the unique blend of having maximum support from our home office and sister offices, such as in-depth annual background checks for all our bonded and insured Care Professionals. We take great pride in the ability to maintain the individual care and concern for our beloved clients.
Our Home Instead/Annandale family believes our strength of success is identifying the best individual for the special needs of each of our clients. Our philosophy is a happy client plus a compassionate caregiver will bring out the healthiest, most successful relationship. The foundation of excellent care is the support of our extensive and dedicated office team to help provide quality assurance with our clients and caregiver professionals to ensure that this bond is maintained. Home Instead is a premier private duty Home Care agency. We provide services that include light housekeeping, laundry, meal prep, medicine oversight, shopping, transportation, and personal care that includes bathing, transfer assistance, incontinence care, dressing, assistance with eating, assistance with Hospice care and nursing services.
One of our greatest satisfactions is to be able to provide reputable resources along the healthcare continuum to the individual/family member who seeks assistance outside of our service abilities. Our paramount focus is for the welfare of the community member in need – and the best resource to accommodate their needs. When we cannot serve a client, our goal is to find referral associates in our resource center that can be of assistance.
We are thrilled to be supporting Insight's Paintings and Pairings event this year as a Diamond sponsor. It has been our fortune to recommend the creative services of Insight to so many of our Home Instead families who are seeking assistance for their beloved family member suffering from a form of Dementia. Insight's diversified programs have provided a comprehensive blend of recreation, education and programs for our clients and their family members. It is our honor and privilege to provide this financial donation to complement our enormous "Thank You" for all you do for our community and beyond.
We are all in this together, as it takes a Village - and Home Instead thanks you!
Learn more about Home Instead/Annandale at https://www.homeinstead.com/location/624/
Learn more about Paintings & Pairings at https://www.insightmcc.org/paintings
Blog
"I like that IMCC focuses on dementia-related problems and provides a focal point for families to network and socially interact in coping with dementia. It provides a community that helps us in our struggle."