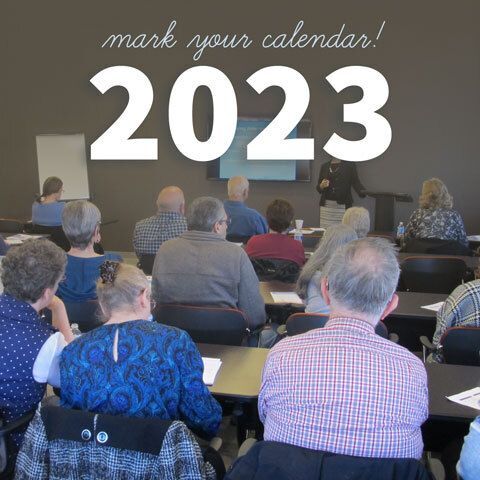 2023 Care Partner Classes
Mark Your Calendar!
Each year, Insight offers hundreds (yes hundreds!) of specialized classes for care partners to build their skills and confidence while learning more about new topics, services, and dementia resources in the community. Using our own dementia expertise and working with community partners for additional specialized topics, we're excited to continue to offer a wide variety of classes, workshops, trainings, author presentations, and even movie screenings in 2023. All of these sessions can be one more tool in your belt to being a stronger care partner!
Check our full event calendar to see what's coming up! Classes and events are offered on a variety of topics throughout the year, both in-person and online. Don't hesitate to use the search bar and filters if you're looking for something specific.
Getting started
Care Partner Trainings - free, one-time classes offered on a variety of topics to help care partners learn new skills and resources available. Typically offered both in-person and virtually.
Virtual Dementia Tour - free hands-on experience to simulate the effects of dementia. It is designed to help care partners better empathize with their loved ones and provide better care. Offered in-person several times throughout the year.
Go more in-depth
Caregiver Bootcamp - free, multi-session training for care partners to learn more all in one day! Bootcamps are offered several times each year on a variety of helpful topics for care partners.
Caregiving at a Glance Workshop Series - 5 week series that walks through our popular Caregiving at Glance guidebook with the help of experts in the field. Offered several times throughout the year, both in-person and virtually.
Alzheimer's Disease and Dementia Care Seminar - This is the first step for those pursuing their Certified Dementia Professional certification, but anyone can come for the education! This day-long course has a small fee, and is offered several times throughout the year in-person.
And there's more!
Author presentations and book discussions - Hear from and chat with popular authors on topics related to memory and cognitive impairments and caregiving support.
Movie Screenings and Q&A - Enjoy a film screening related to memory and cognitive impairments, and stay for a Q&A to learn more!
Special guest and expert speakers - Experts in the field present on topics related to caregiving, legal needs, financial plans, and more.
Community presentations - Insight presents for other groups and organizations, many of which are open to the public. If you miss a class here, join us in your neighborhood!
And if you miss a presentation, don't worry! We post many of our classes online in our webinar library.
Blog
"I like that IMCC focuses on dementia-related problems and provides a focal point for families to network and socially interact in coping with dementia. It provides a community that helps us in our struggle."