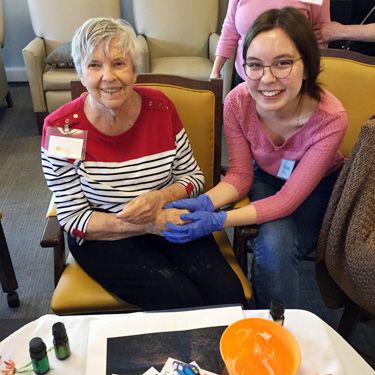 Insight is proud and excited to be utilizing Joyce Simard's Namaste Care program into the late-stage coral group!
We've long been implementing sensory-based programming into our later-stage programs as a tried and true method of engaging and connecting with participants in a meaningful way. Now we have a gold standard model to help focus our efforts on methods that a growing body of research is showing to have positive effects on those with late-stage dementia, their family members, and even professional caregivers!
The word "Namaste" itself means "to honor the spirit within," and this is the philosophical underpinning of Simard's interventions. Namaste is all about connecting with the person in ways many of us take for granted – primarily through engaging the five senses, but especially focused on "loving touch." When I initially entered the field of dementia care, I was asked to think about all the objects and different textures I touch in any given day – everything from my toothbrush, to my coffee cup, to the more mundane: light switches, door knobs, table tops, my own face. Many late stage participants lose a great deal of their mobility and range of motion, and consequently only touch what we provide them with. Tactile stimulation is a key element in stimulating the brain, which Namaste incorporates through different objects and textures. But while tactile stimulation itself is good, what is even better is welcome physical touch. Namaste encourages "loving touch" through gentle hand massages (among other methods), which couples tactile simulation with one-on-one interactions – another key component of Namaste.
Building meaningful relationships is a core component of Namaste Care, which is accomplished in part by providing these times of one-on-one connections with others – ideally with the same staff member, who learns the participant's particular preferences and mannerisms in order to provide the most responsive care. In the Namaste program, the very process of providing care is embraced as a meaningful interaction rather than a task that must be checked off a to-do list. It gives the caregiver, whether personal or professional, a time to slow down and really be present.
Other elements that are included in a Namaste Environment include soft or themed music (auditory stimulation), soft lighting (visual stimulation), soothing scents provided through a diffuser, and even specifically chosen tastes (olfactory stimulation). An active Namaste Environment surrounds you with a full feast for the senses, and the goal is to immerse participants in an environment that hold some meaning for them. Some environments involve travel to locations where a participant may have lived or visited, some invite participants to connect with the season or time of year, and others aim to simply promote calm through soothing scents and sounds.
The benefits for all are becoming more well researched as the program spreads across the world. For the person with late-stage dementia, Namaste Care may help "increase social interaction, reduce the severity of behavioural and physical symptoms such as agitation and, potentially, lead to cost savings via reduction in the use of psychotropic medication" (p. 2). Simard (2013) herself reports in her book, The End-of-Life Namaste Care Program for People with Dementia, that many family members report they are grateful to have found new ways to relate to their loved one – whether it be providing a calming hand massage, or enjoying the sweet taste of lollipops together (another hallmark of Namaste)! Professional staff have also provided qualitative feedback that the program allows them to slow down and feel more connected to those they care for (Simard, 2013), increasing their job satisfaction (Bunn et al., 2018).
The full Namaste Care program offers many other components as well that are not mentioned here, including nursing elements such as encouraging fluid intake and assessing for pain. For more information, obtain a copy of Simard's book and learn straight from the program's creator.
Want to implement components of Namaste at home? For calming scents, try lavender (lavedula angustifolid) (Fujii et al., 2008), lemon balm (Melissa officinalis) (Ballard et al., 2002) or lemongrass (Cymbopogon citratus) (Kaymaz & Ozdemir, 2017) in a diffuser. Look online for proper hand massaging techniques that provide an opportunity for quality one-on-one time and loving touch. Or simply share in the joy of sucking on lollipops together and enjoy the process!
We are so grateful to Katelyn Sloan and Michelle Weinstein for their passion and hard work in making Namaste Care an integral part of the coral participants' days at Insight!
Author
Stephanie Houpt is the Program Director at Insight Memory Care Center.
References
Ballard, C. G., O'Brien, J.T., Richelt, K., & Perry, E. K. (2002). Aromatherapy as a safe and effective treatment for the management of agitation in severe dementia: The results of a double-blind, placebo-controlled trial with Melissa. J Clin Psychiatry, 63(7), 553-558.
Bunn, F., Lynch, J., Goodman, C., Sharpe, R., Walshe, C., Preston, N., & Froggatt, K. (2018). Improving living and dying for people with advanced dementia living in care homes: A realist review of Namaste Care and other multisensory interventions. BMC Geriatrics, 18(303). doi: 10.1186/s12877-018-0995-9
Fijii, M., Hatakeyama, R., Fukuoka, Y., Yamamoto, T., Sasaki, R., Moriya, M., Kanno, M., & Sasaki H. (2008). Lavender aroma therapy for behavioral and psychological symptoms in dementia patients. Geriatr Gerontol Int, 8, 136-138. doi: 10.111/j.1447-0594.2008.00461.x (letter to the editor)
Kaymaz, T.T., & Ozdemir, L. (2017). Effects of aromatherapy on agitation and related caregiver burden in patients with moderate to severe dementia: A pilot study. Geriatric Nursing, 38, 231-237. doi: 10.1016/j.gerinurse.2016.11.001
Simard, Joyce. (2013). The End-of-Life Namaste Care Program for People with Dementia (2nd ed.). Baltimore, MD: Health Professions Press.