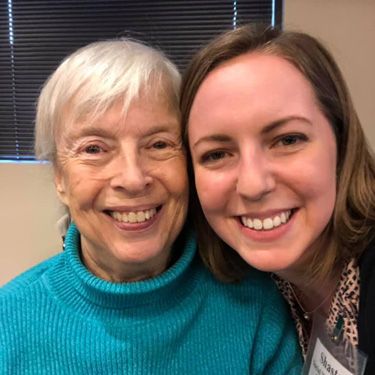 One of the key requirements for obtaining a Bachelor of Social Work degree is to complete a two-semester long field practicum. Having always been interested in working with older adults, Insight Memory Care Center was my top choice for placement – mostly due to their stellar reputation. I interned at Insight and learned so much about dementia care during my time there. Under the guidance of my supervisor, Stephanie, I learned how to write care plans, conduct cognitive assessments, and create individualized activities for participants based on their interests.
Before interning at Insight, I didn't fully understand how the entire life history of a person with dementia plays such a vital role in their present state. Some of my favorite memories involved witnessing a participant respond positively to a reminder of their past, whether it be a song, a place, or a person (Elvis is popular!). For instance, I did a couple of presentations on my time studying abroad in Japan and was surprised by how much the participants knew and contributed to the conversation! I heard stories from Veterans who spent time in Japan post-WWII and from people who lived there as children. A lively discussion of culture, language, food, and politics was shared among the groups. I believe we have so much to learn from our older adults, and I am happy to have facilitated those memories for them.
Needless to say, I absolutely loved getting to know the participants and their incredibly loving caregivers. I was inspired to design and implement a research project on male caregivers as part of a senior capstone project, and Insight was very supportive with the process. In addition to assisting with the daily center activities, I had the opportunity to attend caregiver workshops, learn about local resources, and assist with family and community events presented by Insight. I learned how important it is for community agencies to host dementia-friendly events so that caregivers and their loved ones have the opportunity to socialize and celebrate in a safe and welcoming environment.
As a newbie social worker, learning from the innovative, passionate, and educated dementia professionals at Insight has been invaluable. Insight's staff is an amazing group of individuals that truly care about the work they do. I count myself lucky to have played a small part of the team for the past nine months!