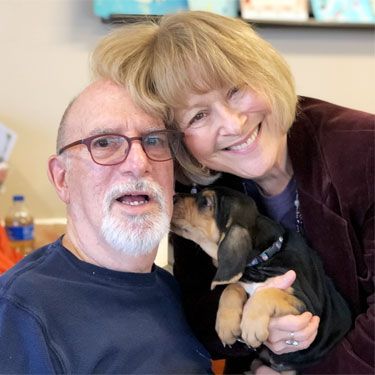 As a disease that currently affects over 50 million people worldwide (cdc.gov), dementia has been receiving a growing amount of attention as of recent. To gain a further understanding of the disease, researchers have published a multitude of studies, physicians have worked to learn how to treat persons with dementia medically, and everyday people are now seeking the advice of professionals on how to care for their loved ones who may be diagnosed. Despite those selfless efforts, we would be remiss if we did not consider the most important perspective of them all: that of the individual living with dementia.
A disclaimer before delving deeper into the experience of living with dementia is that no one experience can universally define what it means to have dementia. Dementia, and its subtypes, is as unique as the individual who possesses it; it is as complex, and dynamic as the person. This perspective comes from someone who is entirely aware of how unique each experience of dementia is, and one I look forward to sharing with you all.
Gordon Seidenberg, lovingly known as NODROG (his name spelled backwards) amongst his colleagues in our early stage Reconnections program shares his perspective here:
A brilliant man, who achieved a rank of Captain in the United States Public Health Service, who is decorated in accolades and credentials, is living with Parkinson's and Lewy Body Dementia. He has obtained a Master's in Public Administration from Cornell University and a Masters in Public Health from Johns Hopkins University, and has the Insight to prove it. Gordon is most known in Reconnections however for his dry sense of humor and quick wit. His intellect is apparent to all, but he often shies away from boasting about accolades or sharing experiences from his successful thirty one year career in the USPHS. When I met with Gordon and his wife, Karen, I asked Gordon to share his experiences with this diagnosis and a few of things stood out most prominently.
When asked about his thoughts on the Reconnections Program, the couple lovingly shared an anecdote from Gordon's counselor: "She compared the program to ice cream. I started Reconnections with one day a week, and she said one day was like one scoop of ice cream, and wouldn't I rather have two? Yes, and make it Pistachio."
Gordon described Reconnections as a place where "we laugh a lot" and "have a lot of fun." His favorite part of the program is how candid the participants can be about their diagnoses, and the ways it impacts each of their lives. Karen commented: "I want to make sure you have in your article that Gordie (Gordon) has had Parkinson's for 20 years, and later developed Lewy Body Dementia. Parkinson's has affected him a great deal physically, but you all understand that. Gordon falls, loses his balance, needs help eating and putting on his jacket and he has always been welcomed in the group."  
Gordon added, "It is surprising to me how little people often know about dementia. They don't understand that it is degenerative and they have so much to learn. Many people don't know you have to be physically active - that is one the most important things to do. When people are able to speak candidly about things like that in Reconnections, I really enjoy being able to share my knowledge with them."
As someone with such a prominent career, who also partook in hobbies such as riding motorcycles and taking them apart in his living room, I asked how he felt this diagnosis has most affected his life. Gordon shared, "I have just lost so much independence. The cognitive challenges are the most difficult part of dementia. Compound that with dexterity challenges, writing challenges, and difficulty organizing my ideas. I have advocated for addiction and mental health research for years, and the lack of understanding requires attention. My cognitive challenges now, make it impossible to publish papers on these topics anymore."
Karen, agreeing with Gordon, stated: "We have tried Occupational Therapy, Physical Therapy, Speech Therapy, Counseling, Physical Training and many other supportive service which slow down the progression of the decline, but the disease process continues. It never stops."
When asked about when symptoms and concerns became very apparent, Karen shared a story of Gordon's work in the yard. "If only you could have seen how many power tools, gardening tools and what not we had in our house when we sold it, it was crazy. Gordon was the master landscaper. He really maintained so much of the house—we climbed ladders to paint, he wallpapered, and at one point we grew our own food! It was one day in the yard when Gordon was using the chainsaw, and horribly cut his knee, and had go to the ER that our family decided no more power tools. This was one of 'those moments' that stand out as a realization for all us."
Knowing both Gordon and Karen very well, our conversation did not always stay to script, but always somehow came full circle to how Gordon just shined at Insight. 
Karen beams, "Going to Insight is Gordon's safe bubble. He just shines. You all make people feel competent, and whole. All he does on the drive home is talk about his day. Dementia is full of so much loss and grief, and this is just a place where he can be himself."
When asked to describe who Gordon is Karen lovingly adds, "Gordon is a man with utmost integrity, a wonderful father, son and husband, and as honest and loyal as the day is long. That is who is, not who he was. This is Gordon."
Something that stuck with me from our conversation together, was the couple's insistence that Gordon, as academically decorated, and accomplished as he was, was no more unique than everyone else in the program. Every single person has their intricacies, stories, talents and gifts that they bring to all of us. Honoring who everyone is, not who they were is something we prioritize every day. For Gordon, for all of our participants, Insight is safe harbor where people can tell their stories, and feel valued. Although this is not a path we may have chosen, it is one where we are not alone.
A tremendous thank you to Gordon and Karen for sharing their story. We are better for knowing them both!
Author
Katelyn Sloan is the Director of Marketing at Insight Memory Care Center.