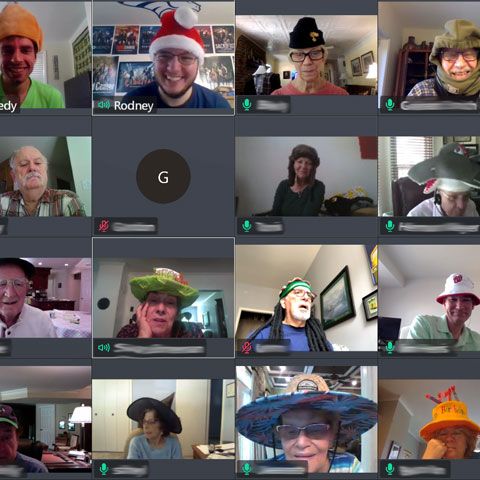 We are continuing to create community, serving families living with dementia as we all adapt to our new normal. As quickly as COVID-19 has impacted us all, Insight has pivoted to offering almost all programs virtually. Ken Connelly, Insight's Board Chair shares, "What hasn't changed in the midst of all of this is our commitment to the mission of providing care, support, and education for those living with memory impairments – the most vulnerable in our community – whether it's in our center or now virtually at home. I continue to be amazed at the high level of dedication and creativity the Insight staff have."
Whether interested in live music, cognitive discussions, daily exercise, or interactive trivia, there is a program for everyone enrolled in Insight's virtual day center and early stage programs. Staff has worked tirelessly to provide the same personalized, meaningful programs that each of the participants would have received in-person at our adult day health center. Each online session is designed to encourage social connection and cognitive stimulation while at home. A family caregiver states, "I couldn't imagine that the staff has handled this any better than they have. Insight has been a quality of life saver for us."
Insight continues to support families during this time as well. Support and education programs have always been free and open to the public, and they remain so online! Insight offers weekly support groups and many scheduled webinars on topics pertaining to caregiving, staying engaged at home, and other resources during this time. One caregiver shared, "these virtual classes are extremely helpful and encouraging. They are a clear blessing in disguise of the pandemic because I might not have time otherwise if I were still going into work."
We also continue to offer SHARE program counseling sessions for families with a new diagnosis to help them navigate the journey ahead. Staff are ready to support the community – whether enrolled in our programs or not – as we remain open for phone and video consultations to offer advice and support in a one-on-one setting.
As we're all staying home longer, Insight will continue to create community in the midst of stay-at-home orders and social distancing. We offer a fun virtual memory café twice a month to give families a chance to connect, share ideas and laughs in a supportive environment. Many performers and volunteers provide live music and entertainment that are open to everyone to enjoy. As a virtual program participant describes, "we've been finding ways to keep it going and it makes a big difference every day when we get together."
A sampling of these virtual programs are posted on our Facebook page (facebook.com/InsightMCC) along with caregivers and participants sharing their words of encouragement and thanks.
For more information about getting involved with Insight's virtual programming, please contact Katelyn Sloan at 571-616-0284 or katelyn.sloan@insightmcc.org.