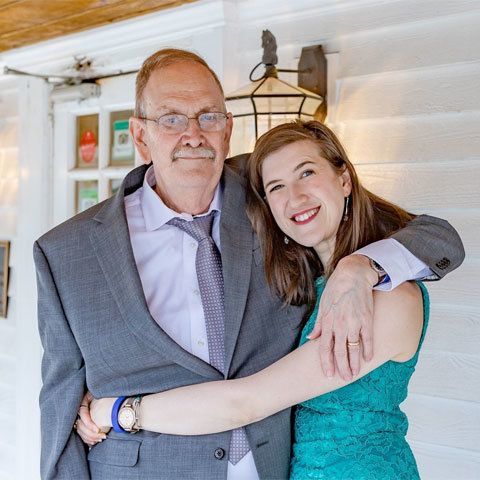 As a 28-year-old, I'd recently graduated from grad school, and snagged my ideal job in downtown DC as the manager of a health nonprofit. While everything looked bright for my career, my love life was turning out to be more difficult. I was almost 30, still single, and still looking for my soulmate. Because my parents were older, I wanted to start a family sooner than later.
That's when my dad was diagnosed with cognitive impairment.
To make matters more difficult for our family, it was a four-hour drive to get to my parents. I was considered "long-distance," which never seemed to be an issue until dementia entered the picture. Fortunately, after the diagnosis, my dad understood how his life would change with this disease. But my mom wasn't yet ready to accept what it would mean for us.
As an only child, I knew it was up to me to make the best of this dementia diagnosis.
The more I researched about dementia online, the more overwhelmed, depressed and confused I felt. I had no idea what to do first! In addition to this lack of clarity, all the resources I found focused solely on tips for the primary caregiver. (Unfortunately, several years later, this is still the case!) So what now? I was completely at a loss for what I could do as a long-distance daughter. Surely there was a role for a secondary caregiver like me? But after many more hours of searching, the only two articles I found suggested "long-distance caregivers stay out of it." Discouraged and frustrated, I turned to my work for help. I connected with colleagues and elder health experts, and attended many of Insight Memory Care Center's free information sessions. With that knowledge and support fueling me, I forged my own path to help my family.
Several years later, here's what I discovered first-hand from my long-distance caregiving:
I know it's hard to believe, but living long-distance can actually be advantageous! Because we don't live with our Forgetful Parent, and we're physically separated from both our parents, it's easier for us see the forest through the trees. From a distance, we can more easily see the big picture and overall trends in our Forgetful Parent's moods and behaviors. And when it comes to our Caregiving Parent, we can see when they're under a ton of stress and notice signs of burnout.
We also have much more time to recharge than our Caregiving Parent does. (Don't believe me? Invite just Your Forgetful Parent to your house for a week, and you'll see what I mean!)  In fact, as long-distance caregivers, we have more time to ourselves because we can return to our own homes and families, and find respite there. We get a break from the daily hands-on caregiving, so we're less likely to burn out, compared to our Caregiving Parent.
So, even from long distance (whether that's 10 minutes from your parents, or 10 states away from your parents), you CAN still help.
Once you learn what to expect in each dementia stage, I highly recommend you start planning ahead. You can see the big picture perspective on how dementia will affect your family, so you can start thinking about the future implications.
Try asking your parents the questions below. If you notice you're getting some pushback, investigate and plan ahead as best you can behind the scenes. When a crisis happens, and it will, your parents will be thankful you have a well-thought-out Plan B ready to go. 
1. Legal Questions for You
Do both your parents have wills?
If so, try to gauge how your mom and dad feel about updating their powers of attorney. If they don't have legal wills yet, try to get them put in place asap.
Plan to work with an elder law attorney who lives local to your parents. This type of attorney tends to have the most experience working with families with dementia.
Do you know what both your parents' final wishes are?
It's important you check in with Your Forgetful Parent about these important end-of-life questions as soon as possible. That way, they can make these huge decisions for themselves before their dementia becomes more prominent.
Knowing your Forgetful Parent's quality of life values will also be super helpful as your family makes decisions throughout the dementia journey.
Google the POLST (Physician's Order for Life Sustaining Treatment). The POLST has a great set of end-of-life questions applicable for people who have just been diagnosed with dementia. [I honestly wish I knew about this document back when my dad was diagnosed.]
Don't forget to ask Your Caregiving Parent what their final wishes are too. Current research is showing that primary caregivers are much more likely to have major health issues. Burnout only contributes to this risk.
2. Money Questions for You
Can your parents afford long-term medical care for themselves?
Try to help gather as many of your parents' financial and insurance documents as possible, and plan to hire a financial advisor. This financial professional can help you and your parents get an idea of what kind of care is affordable in the long-term.
Are there any government programs or community services that your parents are eligible for?
Contact your parents' local Area Agency on Aging for a list of helpful resources that may provide free services.
Do you have enough money to support your parents?
Start to think about whether or not you could help support your parents financially. If you have siblings, consider if any of them could help with financial aid.
3. Safety Questions for You
Is Your Forgetful Parent driving safely?
The next time you visit your parents, see if your Forgetful Parent can drive you to a nearby grocery store. Assess whether or not you feel safe as a passenger in the car with them. Consider the safety of your Caregiving Parent, and the other drivers on the road in your assessment.
Would your parents ever consider moving closer to you?
If they'd rather stay in their home for as long as possible, start looking into getting a home safety assessment. There are low-cost home modifications available that can provide your mom and dad with a tax deduction!
Would you ever consider moving closer to your parents?
If you don't see yourself moving, I highly recommend starting to research home care companies and adult day care services in your parents' local area. As the dementia progresses, both options will be essential to getting your Caregiving Parent a break to prevent burnout.
I also highly recommend checking out some home safety technology. Since my dad's diagnosis, cameras have gotten more sophisticated, and they've been so important in providing many long-distance daughters and sons peace of mind.  Here are some of my favorites.
No matter where we live, we are all being called to help our parents right now. From a distance, we can see the forest through the trees, and we have more time to start preparing our families for the future. If I had to pick the most important recommendation I teach long-distance caregivers, it's planning ahead. I promise you – and I say this from experience – asking these questions ahead of time will save you and your parents loads of stress and a ton of time. By guiding your parents to be proactive, you can focus on making new memories, and discovering joy in each moment. Together.
Author
Laura Smothers-Chu is the CEO & Founder of Befriended Heart, a for-purpose business, that teaches long-distance daughters positive and practical steps to help navigate their parents' dementia. As a long-distance daughter for 7 years, she understands first-hand the struggles daughters face when caregiving for their parents. Laura is also Certified to Advise Elders (CSA), she's a Certified Dementia Practitioner, and she's worked in healthcare for more than 10 years. Her holistic and simplified step-by-step approach empowers you to create a plan for your parents. Just like she did for hers. For more super helpful tips on long-distance caregiving, visit www.joyindementia.com