Event Calendar
32nd Annual Caregivers Conference: Finding Hope and Harmony in Caregiving
Monday, November 12, 2018 8:00 am - 3:30 pm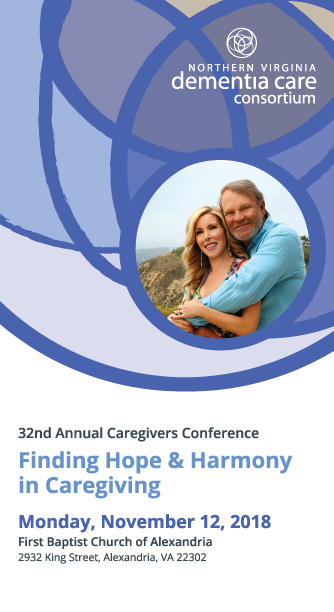 Location:
First Baptist Church of Alexandria, 2932 King St, Alexandria, VA 22302
Description:
Please join the Northern Virginia Dementia Care Consortium for the 32nd Annual Caregivers Conference: Finding Hope and Harmony in Caregiving. If you've attended the conference in the past, you know what an educational and inspirational day you'll have. And if you've never been to the Northern Virginia Dementia Caregiver's Conference, please come join us - we know you'll be glad you came. The conference features an array of presentations for family caregivers and for professionals.

Registration fee is $35, which includes continental breakfast, lunch, materials, and a certificate of attendance. .50 CEUs are available through George Mason University.

Limited free in-home respite care for persons with Dementia, living in Northern Virginia only, will be provided by GraceFul Care. For more information about respite, call 703-904-3994 no later than October 19th.

Conference Schedule:
8:00 Registration, Continental Breakfast, and Visit Exhibitors

8:45 Welcome

9:00 A Family's Journey with Alzheimer's: Glen Campbell: I'll be Me
Presenter: Kim Campbell

10:15 Break and Visit Exhibitors

10:30 Turning Caregiving into CareLiving
Presenter: Kim Campbell

11:30 Dementia Overview and Research Update
Presenter: Brigid Reynolds, RN, MSN, NP

12:30 Lunch and Visit Exhibitors

1:15 Music Therapy: Beyond the Headphones
Presenter: Abigail Amidon, MT-BC

2:00 Break, Snack, and Visit Exhibitors

2:15 Optimistic Aging: Strategies for Creatively Coping with the Challenges of Aging
Presenter: Colleen Turner, MSW, LCSW, CSA

3:00 Music Practicum
Presenter: Forgetful Friends Chorus

3:30 Adjourn


Speakers:
Kim Campbell was married to country/pop legend Glen Campbell for 34 years until his passing in August of 2017, following a long and very public battle with Alzheimer's. The documentary, Glen Campbell: I'll Be Me, shared their family's journey with the world and opened up a national conversation about the disease. Kim founded CareLiving.org to encourage caregivers to take care of themselves and recently launched The CareLiving Foundation to improve the quality of life of caregivers through education, advocacy and real-world change.

Brigid Reynolds, RN, MSN, NP, joined the Memory Disorders Program in 2001. She received her Masters of Science in Nursing from the Catholic University of America in 1996 and a Bachelor of Science in Nursing from Emory University in 1989. Brigid is certified by the American Academy of Nurse Practitioners. Prior to joining the Memory Disorders Program, Brigid's career focused on home care, primary care, and case management for elderly patients. Presently she is on the faculty at Georgetown University where she specializes in evaluating and treating patients with memory problems and is a Research Investigator conducting clinical trials of potential new treatments for Alzheimer's disease and related disorders.

AbiGail Amidon, MT-BC, has worked as the music therapist at Shenandoah Valley Westminster-Canterbury (SVWC) since founding the music therapy program in 2012 at the continuing care retirement community. Abigail provides individual and group music therapy services at SVWC, as well as oversees the national music therapy internship program and the Music & Memory Program. In addition to her degree and Board Certification in music therapy, Abigail has obtained specialized training in neurologic music therapy and hospice and palliative care music therapy.

Colleen Turner, MSW, LCSW, CSA, is a licensed clinical social worker who has been serving older adults and their families for over fifteen years. Currently, Colleen serves the older adult community through a variety of public, private and faith-based positions. Colleen is a lifelong learner and optimist who strives to encourage individuals and their families to embrace the options, accommodations and positive possibilities inherent in the aging experience with resilience, creativity and confidence.

Forgetful Friends Chorus is based in Prince William County and operates under the direction of Susan Dommer. It is for adults with dementia, along with their care partner, spouse, or other family member. Forgetful Friends Chorus members will tell you that music is one of the most uplifting and wonderful experiences for people living with dementia.